See that? In the flickering loneliness of the flames. That is the longing abyss, the smoldering embers of where my bracket previously existed. Obviously, no one cares about my bracket – just like no one cares about my fantasy football team, my score on my last round of golf, what I thought about last week's episode of SNL – but you're going to hear about it anyways. No one's bracket is perfect, in fact, after Friday's games there were no perfect brackets on ESPN.com out of 8.15 million entries.
Not to bog you down with my misery, but here is my West Region. People called the Midwest Region, "the Region of Death," but as far as my bracket is concerned, it's the goddamn West. Yikes: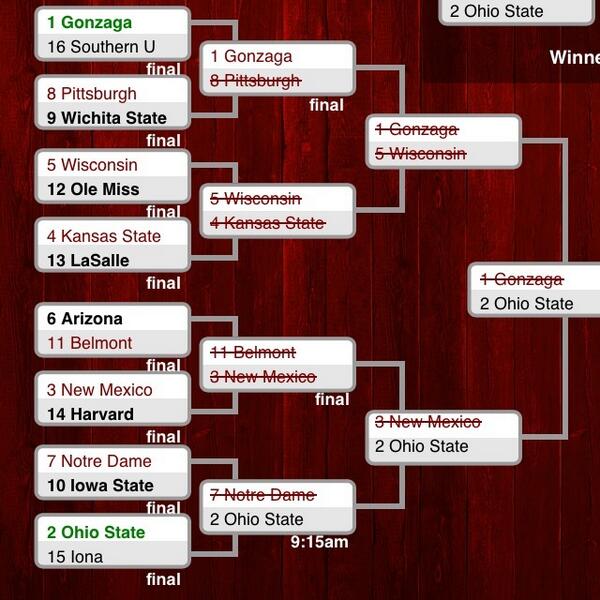 When Marshall Henderson sees my bracket, this is what he looks like:
But my Final Four picks are still intact, by some grace of God, and Nate Silver has my top two teams – Louisville and Florida – as the favorites. And hey, it could be worse, right?
***
It could be Adidas' new sleeved and tiger-striped jerseys that they are forcing teams to wear during the tournament. Notre Dame looks like a lime-green 80's workout outfit and UCLA and Louisville have odd Zubaz-inspired stripes that don't work at all. The Big Lead's Ty Duffy agrees with me. As does Deadspin's Emma Carmichael. They're atrocious and, in a way, I may be rooting for any zebra-striped, baby sleeved uniformed team to lose. For the principle of the matter. Patrick Hruby of Sports on Earth writes an open letter to "college basketball's zubaz nation," I'm 38 percent sure that he's kidding. I mean look at those things:
This is what Brad Stevens thinks about my West Region and the Zubaz uniforms: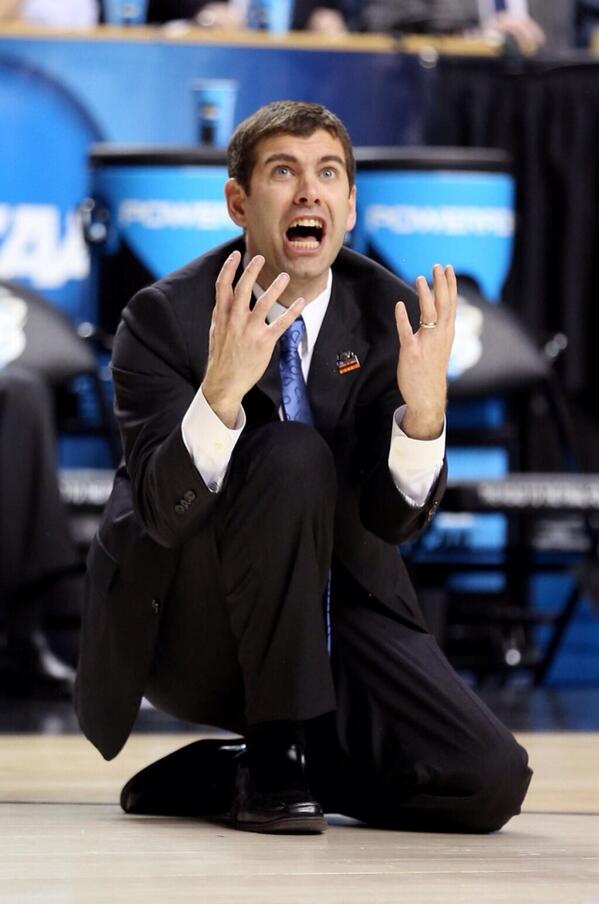 ***
In other news of sadness, UCLA lost yesterday. I wasn't sad, but I'm sure that they were sad. Not too surprising, their second best player Jordan Adams' foot was broken in the PAC 12 title semifinal game and this team has underachieved all year. After the game, the Los Angeles Times' Bill Plaschke was locked and loaded to fire away at UCLA coach Ben Howland.
It wasn't so much a goodbye wave as a slap in the face.
After 10 years of professionally serving a university he loved, Ben Howland was ushered out with two hours of everything he hated.
Selfish shots. Lazy defense. Blank stares.
Various news outlets have reported that Howland is on his way out but USA Today's Eric Prisbell and Daniel Uthman are reporting that he will, in fact, not be fired.
Late Saturday UCLA athletics spokesman Nick Ammazzalorso released a statement that said, "Contrary to multiple media reports this evening, UCLA has not fired men's basketball coach Ben Howland."
I'm sure a big "YET" is needed after that quote. Howland has to be on his way out. Especially after his best player isn't actually who he said he is. 
While UCLA may have been a bit distraught about their loss, I think Floyd Mayweather may have been more upset – seeing that he lost $7 million. And I thought my picks were bad. Who in their right mind would bet more than $5 on a college basketball game this season?
***
And on a final sad note, Adam Riff and his tumblr "The Agony of Defeat" is keeping tabs on every March Madness loser. They post a picture or two from every loss and they are pretty great. Check in every day and see what the losing teams really look like. Even though it pains me to look at Matthew Dellavedova's sad face.
***
On a few final interesting and more upbeat notes, Sports Illustrated's Pete Thamel had two great profile pieces this week. His first was one on Creighton (and High Motor All-Star) star Doug McDermott and how he played on the same team as Harrison Barnes and was totally overlooked by Duke. McDermott ended up playing at Creighton (in Nebraska. Who knew?) for his dad and has excelled in his leadership role. Creighton plays Duke today. THERE CAN ONLY BE ONE.
Butler lost to Marquette – after Rotnei Clarke decided to shoot from DOWNTOWN and airball the potential game winner, along with some other bad crunch-time execution – but Brad Stevens and the boys will always be America's team, sort of. Thamel tells the story of their Moneyball/Jonah Hill/Analytics geek/Wonk Drew Cannon and how he helps their team with maths, or something.
Don't care about college basketball? You made it through this entire article and you don't care about college basketball? Wow, you're loyal. But for those who actually don't care about college basketball and are saying "only the NBA matters," Grantland's Mark Titus compiled a list of players to watch for in this year's tournament. The future of the NBA is here, and it's televised on four networks.
***
I leave you with sad Dellavedova. So much sadness. Until next time: