Today was a doozie. After a decently dull Saturday of blowouts and chalk, Sunday delivered. Before we get to a recap of a few of today's events, here's the schedule for the Sweet Sixteen:
SWEET SIXTEEN
Thursday, March 28
7:15, CBS, Washington D.C.: 3) Marquette vs. 2) Miami (FL) (Lundquist/Raftery/Nichols)
7:47, TBS, Los Angeles: 6) Arizona vs. 2) Ohio State (Harlan/Miller/Elmore/Johnson)
9:45, CBS, Washington D.C.: 4) Syracuse vs. 1) Indiana (Lundquist/Raftery/Nichols)
10:17, TBS, Los Angeles: 13) La Salle vs. 9) Wichita State (Harlan/Miller/Elmore/Johnson)
Friday, March 29
7:15, CBS, Indianapolis: 12) Oregon vs. 1) Louisville (Nantz/Kellogg/Wolfson)
7:37, TBS, North Texas: 1) Kansas vs. 4) Michigan (Albert/Kerr/Sager)
9:45, CBS, Indianapolis: 3) Michigan State vs. 2) Duke (Nantz/Kellogg/Wolfson)
10:07, TBS, North Texas: 15) Florida Gulf Coast vs. 3) Florida  (Albert/Kerr/Sager)
***
FLORIDA GULF COAST FLIES LIKE EAGLES – #DUNKCITY
#DUNKCITY is a thing now. Florida Gulf Coast University is here and we are all Eagles now. They play like we all wish our teams played. Fun, fast, aggressively and hilariously loose. They play havoc on defense, they drain threes, they throw up alley-oops for no reason and demand that you smile while watching them. It's Showtime.
Founded in 1991 and located in Fort Meyers, Florida, Florida Gulf Coast University has 12,000 students, a 68 percent acceptance rate and are the first 15-seed to ever play in the Sweet Sixteen. They've defeated Georgetown and San Diego State and play (now in-state rival) Florida on Friday. If you aren't a fan of the FGCU Eagles, you aren't a fan of basketball. Also, the entire country outside of Gainesville will be rooting for the Eagles. Oh yeah, and they're good too. They're not mid-Major good, they're just good, period. And FGCU head coach Andy Enfield just became the hottest coach around.
And Busted Coverage has reported that every single FGCU beer koozie is sold out. I'll be honest, at $5, I'd buy one too.
Cinderella is here and she is from Fort Meyers, Florida.
***
CRAFT AT THE BUZZER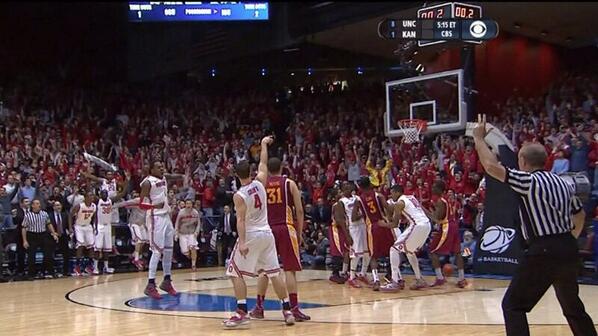 People dislike Aaron Craft, I am not one of those people, but I've heard that he is generally disliked. Love him or hate him, he runs the floor like a general and plays defense like Alabama football. He isn't known for his shot (frankly, it normally isn't very good) but when called for, he can hit some shots. Ohio State was tied 75-75 with Iowa State, after Craft had played some miserable basketball – forced shots, not great defense and tons of missed free throws – but when it counted he put the team on his back. Ohio State's go-to and clear first option scorer is DeShaun Thomas. In the scenario where Ohio State needs a buzzer-beating, game-winning basket, the ball should be in Thomas' hands. But today it wasn't. Craft had the ball, Thomas came off of a screen and was waived off by Craft. Craft was taking that shot. The good thing is he made it.
Here are some reactions:
Ohio State plays Arizona in Los Angeles on Thursday. Go Craft, go Bucks.
***
HOWLAND FIRED
After saying that he wasn't fired yesterday, UCLA officially fired head coach Ben Howland today. UCLA Athletic Director Dan Guerrero held a teleconference with the media today to talk about the decision and where they go from here. Inside UCLA's Jack Wang transcribed the entire question and answer session:
Earlier this afternoon, I met with Coach Ben Howland. We had a nice conversation about the program and a number of things. Subsequent to that discussion, I informed him that we were relieving him of his duties as a head coach at UCLA, and that we would be moving forward with a search as soon as possible.
We'll look for someone who can play a fun brand of basketball, but also a quality brand of basketball. Fundamentals are still important. Ability to defend is still important. But certainly, we don't want to bring in a coach who's going to average 50 points per game.
We're going to cast the net broadly. College coaches are certainly the priority in some respects, but we know there are a lot of other outstanding coaches that coach in the NBA. We'll take a look and see what's out there. We'll bring in someone that will do a great job for us.
"Someone who can play a fun brand of basketball," sounds a lot like Florida Gulf Coast's Andy Enfield. But he doesn't have the pedigree to command a job like UCLA just yet. Howland made three straight Final Fours in the mid-2000's with a championship game appearance. But with an NCAA record 11 championships, UCLA does not hang Final Four banners. This means that both major Los Angeles schools – USC and UCLA – are looking for a head men's basketball coach.
After Steve Alford and Jamie Dixon both signed 10-year extensions with their current schools, USC had to find new candidates to start rumors about. UCLA will look around the country, obviously, but Shaka Smart should top that list. Marquette's Buzz Williams, Memphis' Josh Pastner and even ex-Lakers' coach Mike Brown would be good fits at either LA university, according to CBS.
With this men's basketball vacancy (that he created), Pat Haden will finally get to make his first major hire as USC athletic director. Will he be able to reel in a coach that will make Trojan basketball relevant? Will this new coach bring in fans that actually want to be there to see the team play, rather than come for the free pizza and then leave?
Coaching searches are always fun, though. We can start tracking the athletic director's planes now.
***
MARSHALL HENDERSON AND OLE MISS REMEMBER THAT THEY ARE A FOOTBALL SCHOOL
Ole Miss' Marshall Henderson and his behavior was ousted from the tournament. No more bragging, no more "Landsharking," no more jersey popping, no more anecdotes. Now we have to watch La Salle vs. Wichita State. I shouldn't have said "we," I won't be watching. The man told his barber to make him look like he had a receding hairline. You just can't replace a player like that. Thank goodness he went out as we would hope:
But he explained it:
Now people just do the "landshark" to Henderson now.
***