I will not say "Great Scott," but Adam Scott had a great Sunday afternoon.
Not too far removed from the devastating disaster at last year's Open Championship at Lytham and St. Anne's, Adam Scott has broken his Major-less run by winning the 2013 Masters. Scott also becomes the first Australian to ever win the Masters, though Greg Norman got close a few times.
Scott started his day two shots behind the leaders Brandt Snedeker and Angel Cabrera and stayed close to the lead all day. While battling to stay in contention, Scott made one of the best putts ever on the 18th green at Augusta to go one shot ahead of Cabrera. His putt eked in and seemed to break through any remaining mental residue left by his British Open debacle. The crowd went wild, he gave his caddie Steve Williams – Tiger's former caddie – the most vicious high-five that I've ever seen, and he yelled "Come on Aussie!"
But Cabrera equaled his birdie to force a playoff.
The 18th hole was replayed for the playoff, both men matched each other almost shot-for-shot. The playoff then moved to the 10th hole at Augusta – the hole where Bubba won his green jacket last year, and the place where Angel Cabrera won his own in 2009. Scott and Cabrera had nearly identical tee shots and Cabrera barely missed his birdie putt on the second playoff hole. Scott stood up to his putt, was advised by his caddie in the waning light of the Augusta evening and sank it.
Scott was seen as "one of the best without a Major championship" coming into this tournament and has to be relieved that the weight of being without a Major is off of his shoulders. When Scott won the Players' Championship at 23, he was seen as a favorite to win a Major very soon but that didn't happen until today.
Greg Norman couldn't be more proud of his countryman and his protege.
"I think [Adam will] win more Major championships than any Australian golfer," Greg Norman told the Golf Channel after Scott's win. "Adam can go on and win more Majors because of his age, because of his experience and he finally got one under his belt. "
Scott talked about how he played and how proud he was to be an Australian.
"I just kept plugging away and I didn't know if it was going to happen. It was great that everything fell into place for me," Scott said in his post-round press conference. "I'm a proud Australian and I hope that this sits very well back home. Even in New Zealand. Australia is a proud sporting country and we to think that we're the best at everything as any great sporting country would."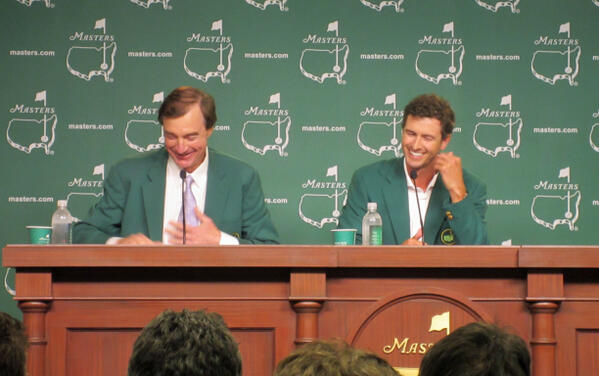 Also, Adam Scott's Masters Champions' Dinner should be a blooming onion, shrimp, Foster's and a grill – or barbecue – should be involved.
The Masters just has a way of making these moments happen. The Masters always elevates a sometimes-dull sport into a truly one of a kind event. Even through the rain and the impending darkness, Adam Scott was meant to win. He played nearly perfect golf and as every self-respecting Australian golfer should, he thanked Greg Norman.
"Norman inspired a nation of golfers. He was the best player in the world, and he was an icon in Australia," Scott said. "He's devoted so much time to myself and young Aussies that came after him. Most of us would feel that he could've slipped a green jacket on during his career, and part of this one is for him."