C'est le Grand Prix.
Monaco is unbelievable. It's a unique, tiny little principality on the Southern coast of France that happens to be the most coveted prize in racing. Other than winning your home nation's grand prix, Monaco is the pinnacle of racing success.
What makes Monaco great is that every year, they put on a race that's desperately unsafe. The roads are so tightly woven together that overtaking is nearly impossible. There is one DRS zone (a wing on the car that  aids in overtaking, or passing and can only be activated during particular segments of the track) which doesn't help much but is one of the two potential overtaking sections of the racetrack. Because it is so difficult to gain positions during the race, a qualified pole position in Monaco is of utmost importance.
There is a history and prestige about Monaco. This is not a series of left and right turns on miles of asphalt that have been dropped in the middle of an open space in some country. It's the Masters of road races. The track is normally the same, but that doesn't mean it's easy. There is absolutely no margin for error and in the race that matters most, the stakes should be the highest.
NBC F1 play-by-play man Leigh Diffey spoke about why Monaco is so great.
"Monaco is so special because people want to see something they can't believe they are seeing, and that is the Monaco Grand Prix in a nutshell. It is an unbelievable spectacle," Diffey said.  "The element of danger is way too high for the modern day sport. But that is why Monaco is Monaco."
The magic of Monaco is that you never know what will happen.  It's glitzy, glamorous and the track is surrounded by yachts that cost more than an average person will earn in their lifetime.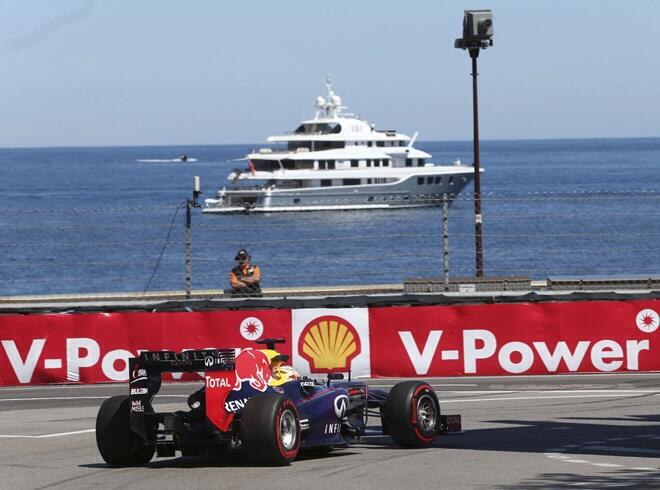 This year, Mercedes has the front row locked out for Sunday's race with Nico Rosberg and Lewis Hamilton earning the 1-2 starting grid positions. If Mercedes can work together without arguing about which driver gets preferential treatment or Lewis forgetting which pit crew is his, they can win this race. While Mercedes has the leg up on the competition by starting in first and second, Red Bull has won the last three Monaco Grand Prix in a row. Red Bull earned a third place starting-grid position for Sebastian Vettel and will put the young German into contention and try to get him back here.
Hamilton, during a press conference, mentioned how difficult it is to get around the track.
"Monaco is one of my favorite races of the year and I love driving the streets," Hamilton said. "As a driver, you know that you have to perform on every single lap and it's a challenge that I really enjoy. It's a real experience to see the barriers flashing past at high speed and I love the fact that the fans can get so close to the track, making for a great atmosphere."
While the drivers are going about their race week as they normally would for any other grand prix, NBC Sports is changing their normal F1 broadcasting style.
The main difference of how NBC will cover Monaco differently than most other races is that the NBC Sports commentary team will actually be  in Monaco. NBC will air the Monaco Grand Prix fully live on American network television for the first time. Normally, their intrepid field reporter Will Buxton will report from pit lane from all around the world, while the commentary crew will be in a cozy studio somewhere in America watching the race on TV like the rest of us.
NBC is treating this race how it should be treated, with respect, glamour, total blowout promotion and full-saturation coverage. If a viewer doesn't know everything there is to know about Monaco and Formula 1 after watching NBC's coverage, they were up too early that morning.
Buxton spoke about his appreciation for NBC and their investment into the sport. (Come on, America. Catch the F1 fever.)
"Formula 1 needs America more than America needs Formula 1. It's fabulous to see how much NBC is pushing it," Buxton said on the Awful Announcing Podcast. "This is an investment that F1 has never seen from an American broadcaster."
After five races, NBC has already outdone anything that Speed Channel ever did with this incredible sport. The interest in the sport and the interest in creating an American following for a sport that airs too early in the morning and has no Americans involved, is admirable. But if NBC can make some sports in the Olympics watchable, imagine with they can do with a sport that is already phenomenally exciting.
Here's NBC's broadcast schedule between network NBC and NBC Sports Network. For those (like myself) not inclined to wake up at 7:30 a.m. Eastern time, NBC Sports Network will re-air the race in its entirety twice:
| | | | |
| --- | --- | --- | --- |
| Sun., May 26 | Monaco Grand Prix | NBC | 7:30 a.m. |
| Sun., May 26 | F1 Extra | NBCSN | 10 a.m. |
| Sun., May 26 | Monaco Grand Prix Encore | NBCSN | 10:30 a.m. |
| Sun., May 26 | F1 Extra Encore | NBCSN | 1 p.m. |
| Sun., May 26 | GP2 Race 2 | NBCSN | 1:30 p.m. |
| Sun., May 26 | Monaco Grand Prix Encore | NBCSN | 10:30 p.m. |